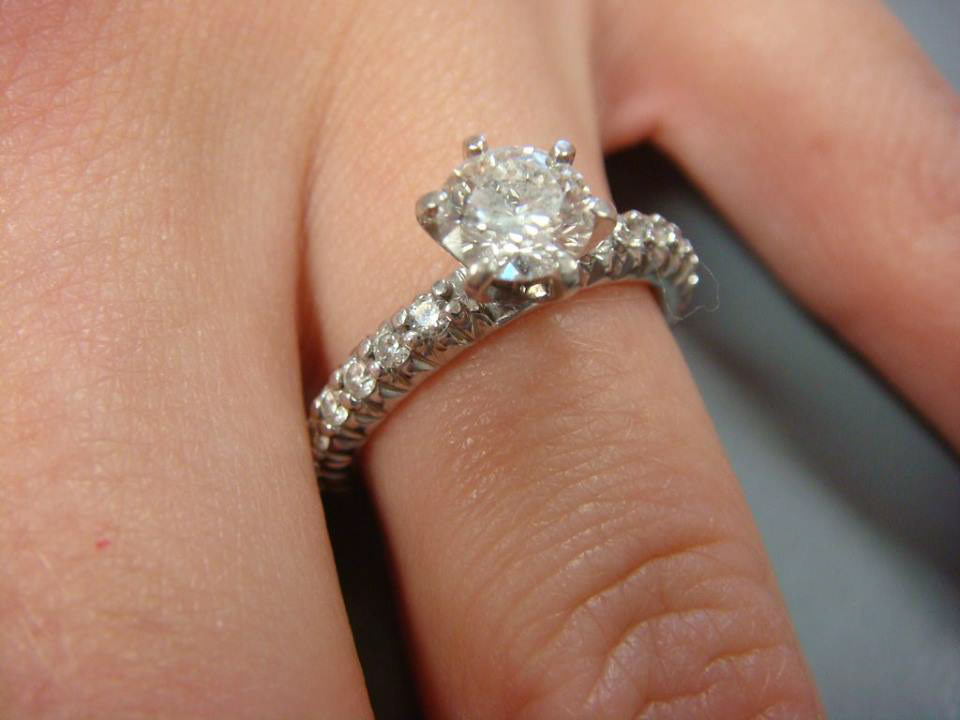 Lansing's Jeweler's Jeweler
Adapted from 'Lansing's Jeweler's Jeweler' by George Trumbull
Get off the elevator on the 16th floor of the Michigan National Tower downtown, and just for a jiffy you feel like you've gone to heaven. It is so spookily quiet. Your fantasy is heightened further when you see your image reflected in the high-gloss, mausoleum-like marble walls that greet you.
As you stand there transfixed, not knowing whether to turn right or left, all of a sudden this lofty and eerie tranquility is pierced by the sounds of metal being filed, accented by the staccato of light bounding. You turn left into the open door identified with the number "1600" and find yourself interrupting the riveted concentration of one of Lansing's remarkable artists in residence, Mark Arendsen.
Arendsen Jewelers is where Mark proudly lengthens the legacy, started by their father Norman, of designing and producing exceptional custom and contemporary handcrafted jewelry. The senior Arendsen, retired in 1981 and sadly passed away in 1995, began the family business in 1957. During his stint in the military he repaired precision instruments and then, after being in business with Joe Owens of Linn & Owens Jewelers for 10 years decided, (sic) to strike out on his own and launch his own business. "It was really my mother who should get the credit," said Mark. "She convinced our father to start his own business after more than a decade working for others."
Years later, Norman Arendsen would receive the enviable plaudits in his profession as "a jeweler's jeweler" as he kept alive the nearly dying art of hand-engraving on fine jewelry. "Our father could do anything any customer wanted," said a proud son, Jon. "I don't mean to sound boastful, but that's simply the truth." Jon retired in 2005 after having worked at the company for almost four decades.
"In the early days, if a jewelry store couldn't do a particular piece the customer would be referred to us. We would do the special job, such as a handcrafted broach, a ring setting, a pendant, or whatever the other jeweler was not equipped to do. As time went on, we developed a one-on-one type of trade rather than working for these other jewelers." 
To Mark, every job, no matter who the purchaser, is looked upon as a priceless challenge, a once-in-a-lifetime creation. Mark specializes in gold and platinum wedding rings, engagement rings and one of a kind pieces. Click on the gallery link above to see just a few of his past creations. If you have a design in mind he'll gladly work with you to create your special gold or platinum memory. If other jewelers said a piece can't be made or repaired talk to Mark and odds are he'll tell you differently.
George Trumbull is a Lansing resident who specializes in writing about downtown Lansing. 
​​​​​​​
Adapted from Lansing City Magazine, February 1992, pages 16 – 18.
Lansing's Jeweler's Jeweler
Adapted from 'Arendsens Craft Customized Jewelry' By Jane Whittington
If the sun seems to glint with a particular brilliance off the windows of the 16th Floor of the former Michigan National Bank Tower, perhaps it has something to do with the diamonds, sapphires, rubies and gold displayed in the two rooms occupied by Arendsen Jewelry. Tucked away in an inconspicuous corner of a building largely occupied by government and legal offices, the Arendsens sell a dazzling array of custom-designed and handcrafted jewelry. Since 1957, they've been supplying Lansing with engagement rings, anniversary pendants, graduation bracelets and "I'm really sorry I forgot your birthday" two-carat diamond earrings.
The business had its beginning not in Lansing but in Belgium during World War II when Norman E. Arendsen, father of current owner Mark Arendsen, met Lansing jeweler Joe Owen. Norman E. Arendsen was stationed there near the end of the war and met Owen when the Lansingite noticed him sketching one of the many churches in the city and initiated a conversation. They discovered that they had much in common. Both were from Michigan, and Norman's father in Detroit was an artist and sign painter as was Owen, who had worked as a sign painter before the war. Owen discovered that Arendsen had attended the Rhode Island School of Design where he learned engraving and had engraved pistols for such notables as then Vice President Harry S. Truman. The friendship led to Arendsen's move to Lansing…
Adapted and Excerpted from The Greater Lansing Business Monthly, February 2002, page 42.